When your ventilation testing is fully compliant you can breathe easily.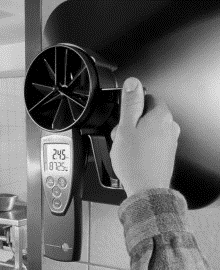 Part F Building Regulations 2010 introduced the necessity to verify practical performance of ventilation in new dwellings.
The Regulations require validation of airflow measurements along with ensuring that the ventilation system has been configured correctly in all new and refurbed dwellings.
Domestic Ventilation Testing can be measured at the same time as Air Tightness Testing, saving you cost and increasing the timeliness of issuing the results.
All tests must be undertaken using UKAS calibrated equipment and should be conducted by an engineer registered with a competent scheme with respect to "domestic ventilation technologies". It is important to note that where the engineer undertaking the testing is not registered a 25% penalty will be applied within SAP. All of Abbey Consultants engineers have successfully completed the BPEC Domestic Ventilation course.
Get in touch or send an email if you need any information or expert support about Domestic Ventilation Testing and one of the team will respond within 24 hours.